News, Views and Happenings from "Up the Creek"

A big thank you to Ellen Vick for updating our club's directory. Ellen has been doing this for several years and we appreciate her time and effort. Ellen recently emailed a PDF out to the membership. If you would like a printed booklet, they are available to be picked up at the Club.​ If you are out of the area, a booklet will be mailed to you upon request. Contact Doug Taylor, office manager at thetay@aol.com.


Newest member, Marty O'Hagan. He is the new owner of Blondie, 1985 29' Sea Ray 300
The beer taps are again flowing! Get on down to the club and quench that thirst!
Petaluma River, Napa River and of course San Rafael Creek have all been recently dredged after many, many years of struggling to get the work done. Thankfully our Congressional Representatives Jared Huffman (Marin/Sonoma) and Mike Thompson (Napa) listened to our pleas, and working together they were able to get a large portion of the funding in the Federal Budget which got the ball rolling. They put the pieces of the puzzle together for the alphabet soup agencies (USACE, Marin County, City of SR, BCDC, CMANC, RBOC, Bay Planning and many others) to get it done.


Every yacht club has their thing or couple of things that make it really fun to be a member and for other clubs to have a cruise-out and visit. This past weekend Petaluma had their traditional Memorial Weekend "Hawaiian" themed event! For the boaters, it was a wonderful trip up the river. If you have not gone up the river, I highly suggest you make the journey. It's really a great experience and just beautiful. It's so nice to know we have something like an experience to Petaluma so close.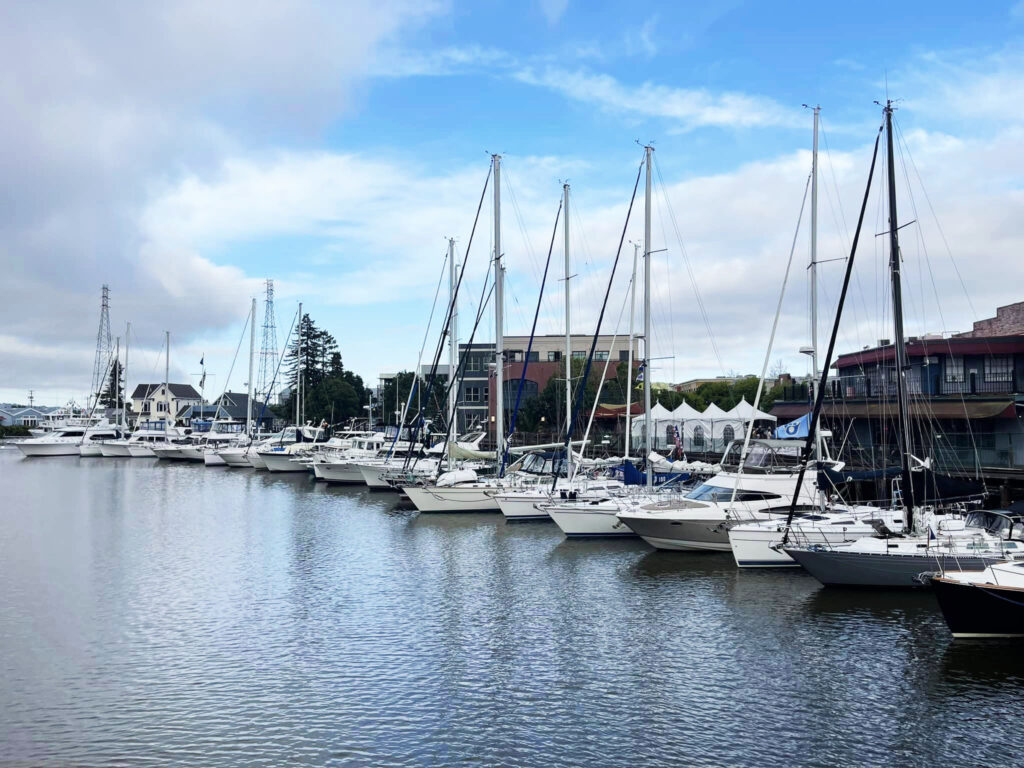 There were 37 boats from 13 clubs. Many people drove up to join the festivities. Some even stayed in hotels. So, a little staycation was had by many.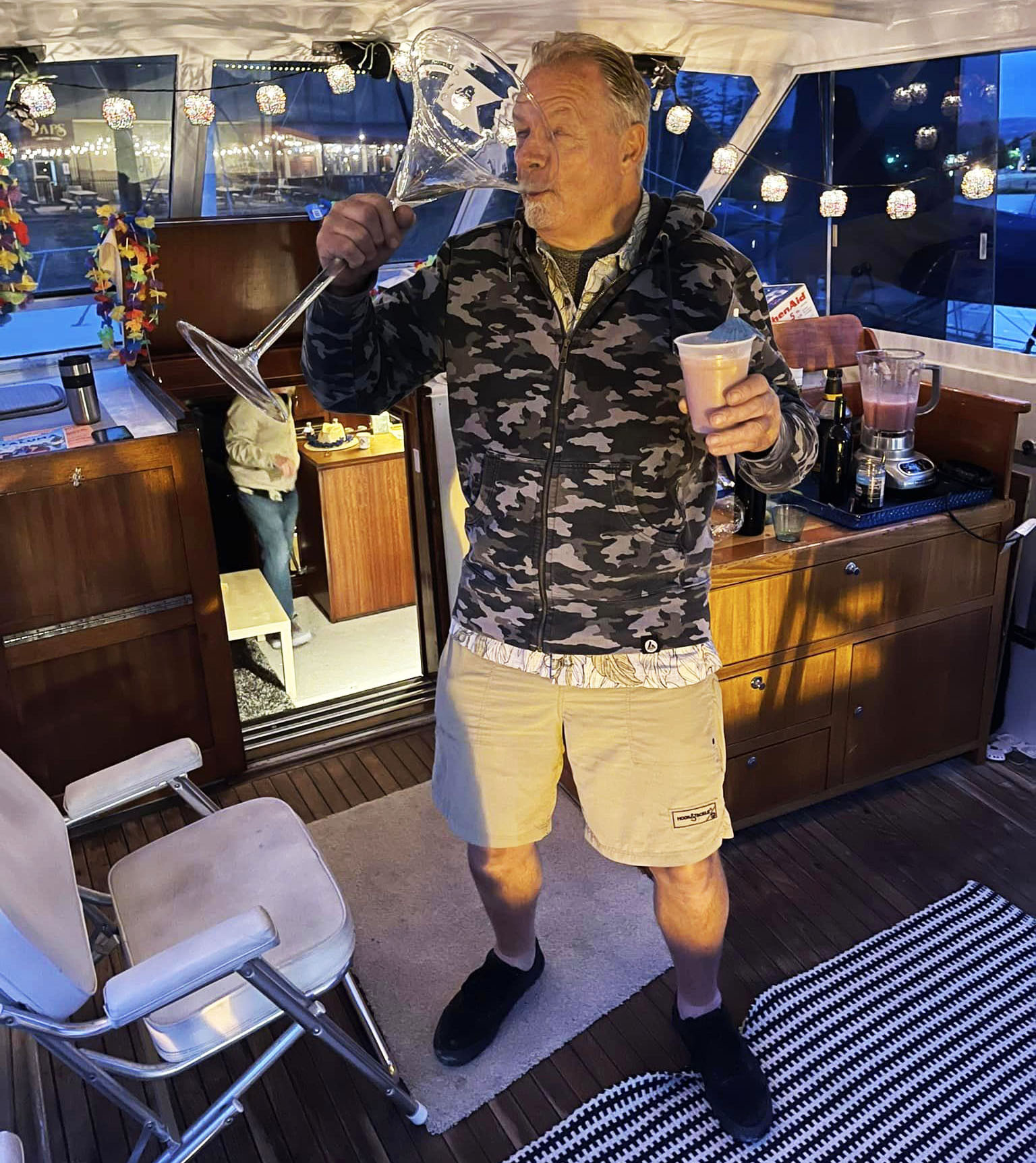 The fun started on Friday night. PYC traditionally has a dockside cocktail making contest. Our very own Commodore Jerry McNulty took home the trophy.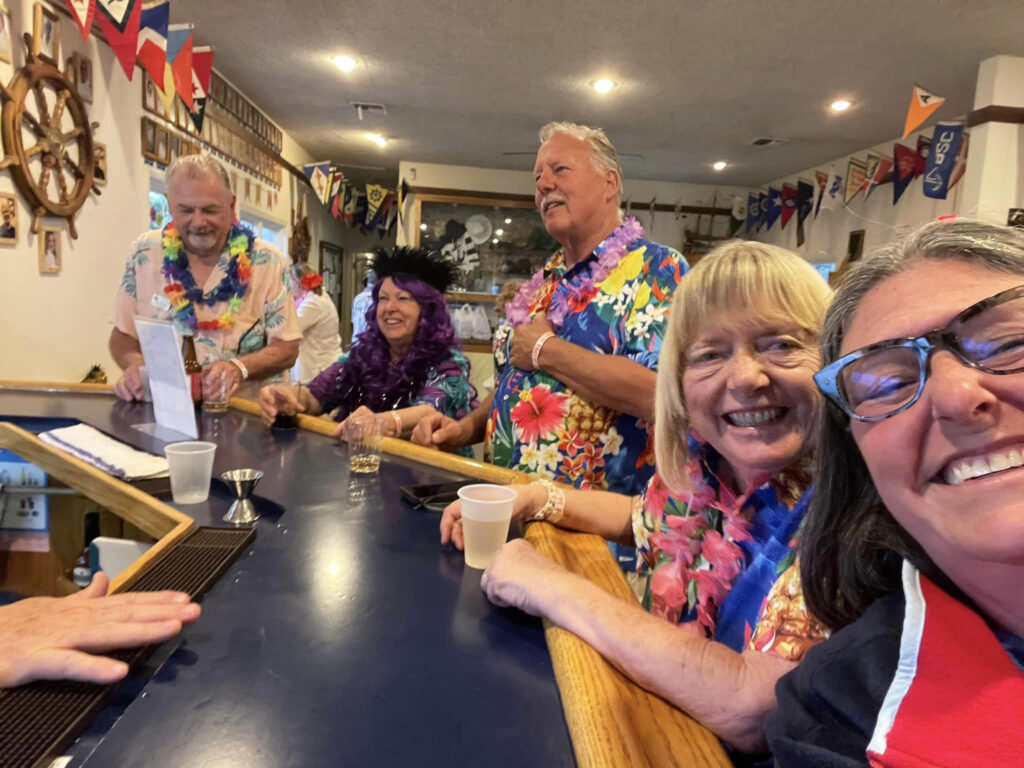 Saturday was breakfast and enjoying the town of Petaluma until the afternoon when the Ukulele music started then the dinner was Hawaiian food. More fun visiting with each other onboard and at the bar.
Sunday there was a flag ceremony with the Coast Guard and fun games.
The most notable game being the winner got their weight in beer!
ALL HANDS ON DECK
There are some big events this month including a couple of rentals that require help. Be it set-up, bartending, cooking, cleanup or schmoozing. Any help is appreciated!


Please sign up, especially if you're on the June watch list.
| | |
| --- | --- |
| Salter | Tuatagaloa |
| Steiner | Tuatagaloa-Wendell |
| Sullivan PC | Vick |
| Sullivan | Wahlstedt |
| Swavne | Weinmann |
| Tavlor | Weisman |
| Thill | Wienholz |
| Thomson | Wood |

Cruising-In Saturday, June 17 for lunch will be Corinthian YC & Loch Lomond YC. We will have a BBQ with salads and sandwiches for lunch. Enjoy an early Father's Day at SRYC with our friends boating up the creek.


Then Saturday, June 24th we will have our Summer Sailstice/Solstice Viking Party. $25.

Sunday we'll have breakfast for $10.

Bring your boat or arrive by land yacht. Invite your friends and help celebrate Summer! Dress like a Viking or a Solstice aficionado. We'll have some gameplay. We're ordering warm weather so you can enjoy the patio or borrow/take your kayak out for a spin. The SRYC Bar will be open at 4pm. We will serve a Swedish Smörgåsbord with an American Buffet. Don't forget your dancing shoes! The Natural Blend Band will be getting the dance floor hopping with some of your favorites.
Looking forward to July. My watch team is:


| | |
| --- | --- |
| Anijalg | Beraman |
| Arriola PC | Berreyesa |
| Barbieri | Billingsley |
| Barnes | Boyles |
| Benin | Burns |
| Bentley | Callahan |
| Bentzen | Campisi |
2023 WATCH TEAMS
GREG YU is Watch Captain this month. Team members are expected to be available during their assigned month to help with the following duties:
| | |
| --- | --- |
| SECRETARY | Karlyn Good |
| TREASURER | OPEN - David Sullivan PC, Acting Treasurer |
| ACTIVITIES | Rear Commodore, Mia Bernt PC |
| AUXILIARY | Ernie Bergman |
| BAR | Vice Commodore, Greg Yu |
| BUILDING | Jim Meenaghan & Paul Kerrigan |
| CHIT COLLECTOR | Emily Boyles |
| CLOTHING SALES | Kathy Collins |
| DECK REPAIR | Jerry McNulty PC |
| DREDGING | Dave Sullivan PC |
| GALLEY | Mia Bernt PC & Dave Pedroli PC |
| GROUNDS & LANDSCAPING | Jimmy O'Hagen |
| MEMBERSHIP | JEB Pickett PC |
| OFFICE MANAGER/ ASST TREASURER | Doug Taylor |
| PICYA | Mia Bernt PC & David Sullivan PC |
| PORT CAPTAIN | Jimmy O'Hagen & Jerry McNulty PC |
| SEA BREEZE | Sheryl Lunsford |
| SUNSHINE | Stephanie Thomson |
| WEBSITE | Sheryl Lunsford |
| YRA - YACHT RACING ASSO SF BAY | JEB Pickett PC |
GENERAL MEETING

DINNER $10
June 1st
6:00 - 8:00 PM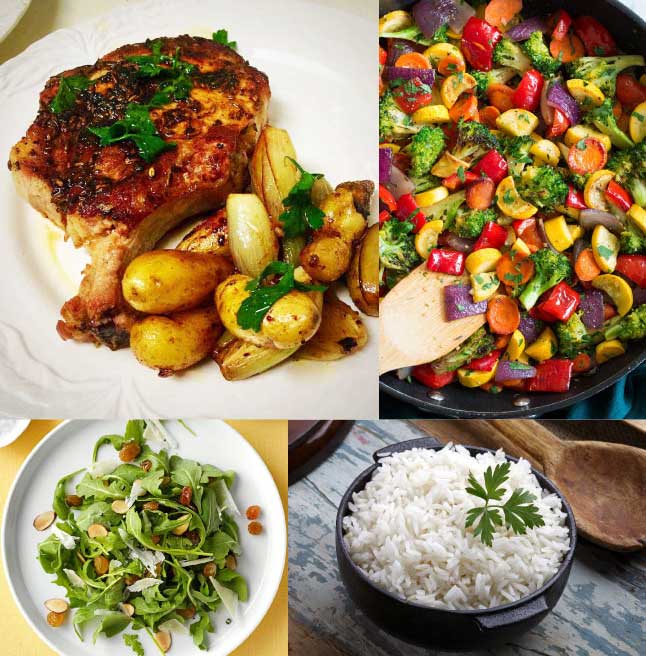 Meeting ID: 878 0744 1307
HAPPY HOUR 6:00 – 9:00 PM
"for the good of the club"
The Auxiliary is open to all members and their significant others. Traditionally the Auxiliary leans towards family related activities. We organize Christmas parties, theme dinners (i.e., Italian nights, Cook Your Own Steak nights, Karaoke evenings) and many other fun-filled events. The goal is always to provide enjoyment and opportunities for fund raising.
Dues are only $20/year and are payable to SRYCA.
Just place your application and dues in the office mail slot.
A SHOT OF WHISKEY: In the old west a .45 cartridge for a six-gun cost 12 cents, so did a glass of whiskey. If a cowhand was low on cash he would often give the bartender a cartridge in exchange for a drink. This became known as a "shot" of whiskey.
SHOWBOAT: These were floating theaters build on a barge that was pushed by a steamboat. They played small towns along the Mississippi River. They were gaudy and attention grabbing which is why we say it when someone is "showboating."
1. 2023 Petaluma YC Memorial Day Weekend
2. 2023 May Paddle Day & SRHS Sailing
3. 2023 May Babies Birthday Party
CLOTHES RACK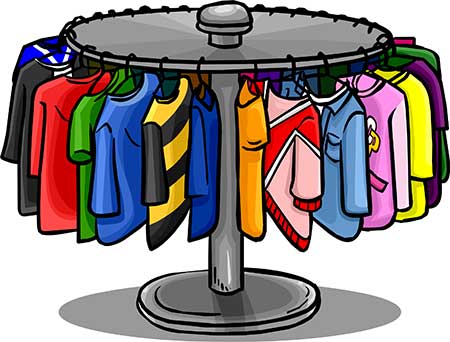 Embroidered clothing and blankets have been restocked in the ship's store.
Check them out the next time you are at the club!
Wine and Beer Glasses are available for purchase. $10 each. Booze not included.
WEBMASTER
I am always looking to add new things to the Sea Breeze and website. If you have any suggestions, please pass them onto me.
My wishlist of new content for 2023:
Clothing Rack Online Ordering Page
Member Orientation in Members Only

Member Spotlight
MEMBERS ONLY - REGISTER & LOGIN
Create Your Members Only Profile*
Confirm receipt of your registration.

*

Registrations must be activated by the Webmaster before proceeding

.

An email will confirm registration is activated.

Login with the auto-generated password or click change your password here.
To create a new password, use Forgot password? Click here to reset.

The Members Only menu will magically appear. Click on it to enter.

Club documents accessible by Members Only:

Roster [as of 12.06.22]

Bylaws

Club Rules

Watch Teams

Blank Meeting Agendas