News, Views and Happenings from "Up the Creek"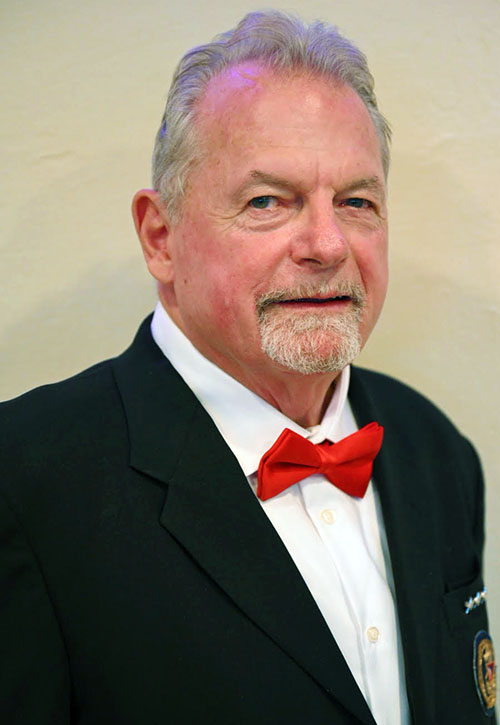 It has been a busy month. 5 private parties and several club events. Starting with Labor Day Fun Day. The club supplied the BBQ and fun was had by all. The general membership dinner was tri-tip prepared by Shirley, Kim, Will Little and myself. Thanks for all your help guys. We had 2 cruise-ins with 3 different clubs: Caliente, Tower Park and Point San Pablo. The Auxiliary provided "cook your own steak" for the cruise-in. Another great event. A big thanks to Kim McClure, Will Little, Susanna Gasper & Ed Cass for helping me out last month in general.


Paul B. and Paul K. are working on replacing the club signs out front and on the building.


Doug Taylor went under the knife for a new knee and is doing fine. Yay!


For the month of October, Tom Schimdt is at the helm. So if you are on his watch, please help him out. For the membership meeting October 5th, he and Paul K. are preparing a "Mexican Fajita Night" with chicken, beef, rice and beans .
On the 13th, 14th & 15th, Cruiser Haven will be coming in with 3 boats and 6 people. Let's show them a good time.
I will be taking off on a lobster dive trip on the 11th and returning the night of the 14th.
Ernie's TAM reunion party is on the 14th and Tom will need bartenders.
On the 21st is a private wedding party.
On the 28th will be the San Rafael Yacht Club Halloween party headed by Greg Yu. The party will benefit Miller Creek School District. There is no charge for members, however, donations will be appreciated. There will be live music and a DJ. So get your costumes together!
Congratulations to Ed Cass whose kid won 1st Place in the women's category at the Alcatraz Invitational!


I look forward to seeing you all at the club.


| | |
| --- | --- |
| SECRETARY | Karlyn Good |
| TREASURER, INTERIM | David Sullivan PC |
| ACTIVITIES | Rear Commodore, Mia Bernt PC |
| AUXILIARY | Ernie Bergman |
| BAR | Vice Commodore, Greg Yu |
| BUILDING | Jim Meenaghan & Paul Kerrigan |
| CHIT COLLECTOR | Emily Boyles |
| CLOTHING SALES | Kathy Collins |
| DECK REPAIR | Jerry McNulty PC |
| DREDGING | Dave Sullivan PC |
| GALLEY | Mia Bernt PC & Dave Pedroli PC |
| GROUNDS & LANDSCAPING | Jimmy O'Hagen |
| MEMBERSHIP | JEB Pickett PC |
| OFFICE MANAGER/ASST TREASURER | Doug Taylor |
| PICYA | Mia Bernt PC & David Sullivan PC |
| PORT CAPTAIN | Jimmy O'Hagen & Jerry McNulty PC |
| SEA BREEZE | Sheryl Lunsford |
| SUNSHINE | Stephanie Thomson |
| WEBSITE | Sheryl Lunsford |
| YRA - YACHT RACING ASSO SF BAY | JEB Pickett PC |
OCTOBER'S CAPTAIN: TOM SCHMIDT
PLEASE, PLEASE, PLEASE RSVP TOM!
SRYC Members are expected to be available during their assigned month to help with the following duties:

Monthly Membership Meeting Dinners
Friday Night Happy Hour Food & Bartending
Club Events & Clubhouse Rentals
Check the Calendar and Contact Your Watch Captain to Offer Your Help
These are generally always FUN events and a great way to get to know fellow members. Any help with set-up, bartending, cooking, cleanup or schmoozing is VERY appreciated by your Watch Captain!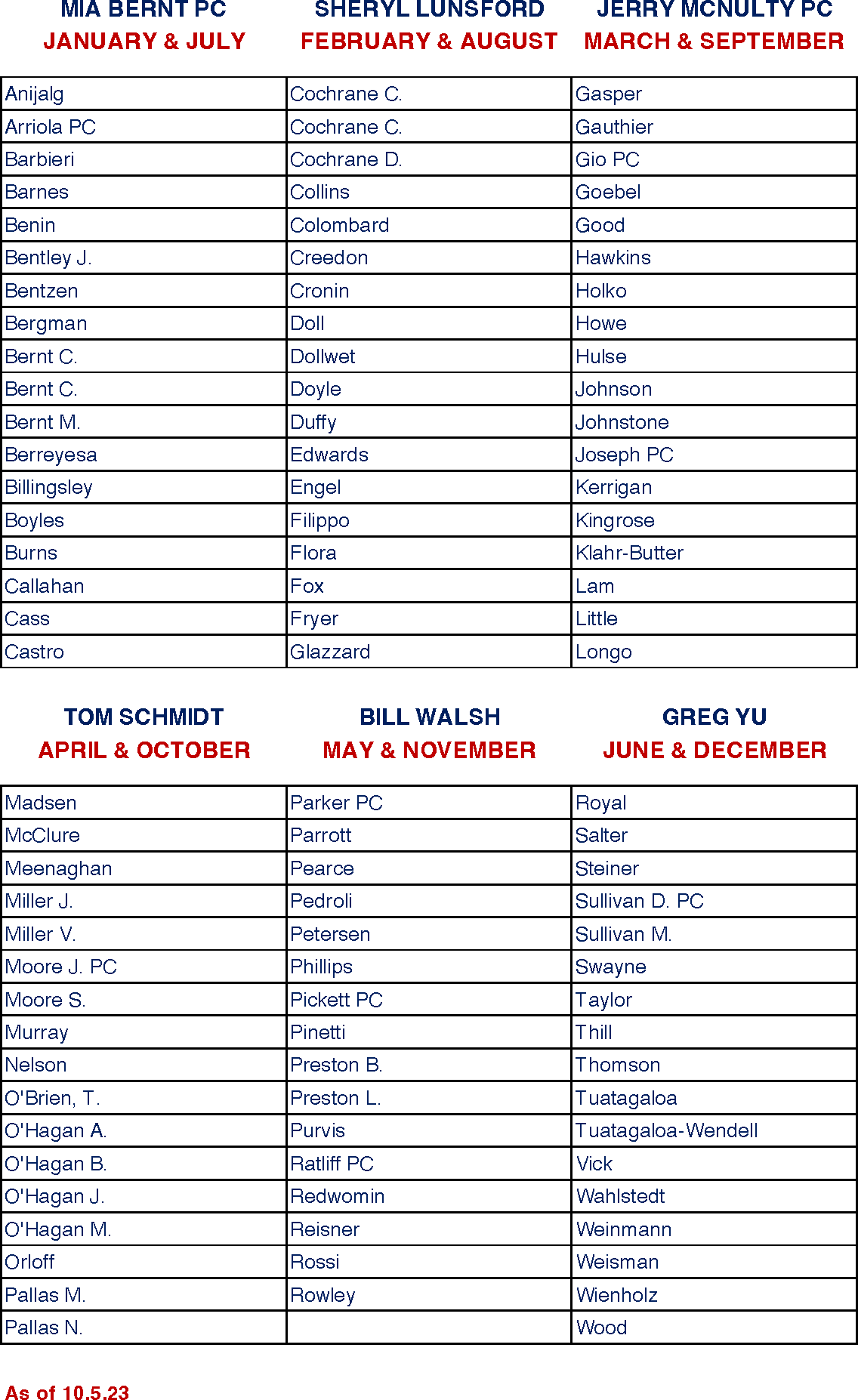 GENERAL MEETING

[First Thursdays of the Month]
OCTOBER 5TH
6:00 PM
INDUCTING: Larry Murray, 1928 98' Ted Geary/1963 63' Stephens


Cari Gerlach, 16' 63' Kayak
Chris Carrier
Alan O'Brien
DINNER $10
Mexican Fajita Night!
Chicken & Beef
Meeting ID: 878 0744 1307
HAPPY HOUR 6:00 – 9:00 PM
"for the good of the club"
This last Saturday, September 23rd, your SRYC Auxiliary hosted another delicious, wonderful, fun "Cook Your Own Steak" night in coordination with the cruise-in of Tower Park and Caliente YCs. Approximately 35 sailors/mates signed up in advance to practice their skills at grilling with the SRYCA providing the steaks, sides, and appetizers. We were a little concerned about the weather, but it all turned out to be a beautiful evening. Rosie provided entertainment and the conversations were plentiful. Special thanks to ALL Aux members who made this effort a great success, especially: Betsy, Kathy C, Emily, Lou, Barbara, Paul B, Paul K, Berneice, Jerry and Terry. If I left anyone off the list . . . I apologize (I'm getting old).
SRYCA Members – don't forget to put on your calendars the following
upcoming SRYCA sponsored events:
October 14th (Annual SRYCA (AUX) Members Only Installation lunch)

November 11th (Italian Night - All SRYC Members)

December 9th (Annual Aux Christmas Party - All SRYC Members)
Be there or Be square . . . .
The Auxiliary is open to all members and their significant others. Traditionally the Auxiliary leans towards family related activities. We organize Christmas parties, theme dinners i.e. Italian nights, Cook Your Own Steak nights, Karaoke evenings and many other fun-filled events. The goal is always to provide enjoyment and opportunities for fund raising.
Dues are only $20/year and are payable to SRYCA.
Just place your application and dues in the office mail slot.
CURFEW: The word "curfew" comes from the French phrase "couvre-feu" which means "cover the fire." It was used to describe the time of blowing out all lamps and candles. It was later adopted into Middle English as "curfew" which later became the modern "curfew". In the early American colonies, homes had no real fireplaces, so a fire was built in the centre of the room. In order to make sure a fire did not get out of control during the night it was required that, by an agreed upon time, all fires would be covered with a clay pot called a "curfew."
NEW! There is now a place where you can share photos with your Sea Breeze Editor/Webmaster to use for the newsletter and website.
SRYC hosted the

cruise-in of Tower Park and Caliente YCs in coordination with the "Cook Your Own Steak" night put on by the Auxiliary.




Just like the good old days, it was great to see boats visiting our docks again!
The online Ship's Store offers more selections, including full product descriptions, colors and sizes.


Several items are available for purchase in the club's display case that you can pay for at the bar.


WEBMASTER
Do you have a suggestion for the Sea Breeze and/or website you'd like to see? If so, please pass them onto me!
My wishlist of online content:
Member's Orientation Manual
My wishlist of new club gadgets:
Dust Buster
MEMBERS ONLY - REGISTER & LOGIN
Create Your Members Only Profile*
Confirm receipt of your registration by email.

*

Registrations must be activated by the Webmaster before proceeding

.

Another email will confirm your registration is activated.

Login with the auto-generated password or click change your password here.
To create a new password, use Forgot password? Click here to reset.

The Members Only menu will magically appear. Click on it to enter.

Club documents accessible by Members Only:

Roster

Bylaws

Club Rules

Watch Teams

Blank Meeting Agendas