News, Views and Happenings from "Up the Creek"

We had Tom Schmidt at the helm the month of October. It started with a cruise-in with

Cruiser Haven Yacht Club from up in the Delta the same weekend as Ernie's 1963 Tam High School Reunion. Fun was had by all. (So was my lobster cruise trip. Thanks to all that covered for me during and after my trip that weekend.) The Marsha Wedding rental was a big success and the Halloween Party was off the hoooooook! Thank you Greg Yu and Crew! A pumpkin carving held the next day for the kids was another successful Halloween event, and the SRHS Water Polo end of year party afterwards was great. Phew!


At the general meeting we will be inducting 4 new members and introducing Paul Kerrigan, building co-chair, as an incoming director. I want to thank Paul for really stepping up and getting involved with not only building projects but taking the initiative on administrative policies as well.


This month we have Bill Walsh at the helm. He will start off by cooking a great pork chop meal for the general meeting at $15. We hope to see lots of members at the meeting.


If you're on Bill's November Watch, PLEASE SIGN UP on his watch sheet for Happy Hour Fridays and/or any of these events

:

November 11, Sat EVENT: Auxiliary's Italian Night, with Stephanie Thomson as chef.
November 16, Thu RENTAL: SRHS Volleyball Team end of season banquet.
November 17, Fri RENTAL: Memorial 9-5pm.
November 18, Sat EVENT: Club Work Party

starting at 8:00 am

.

Anyone interested please contact Paul Kerrigan at

kerriganp65@gmail.com or 415-647- 8422. (The last work party was a great turnout and huge success. Many thanks to all who helped. -Paul)
November 18, Sat RENTAL: Birthday party Saturday evening.
November 24, Fri EVENT: Thanksgiving Potluck the day after Thanksgiving.
November 26, Sun RENTAL: Baby Shower.
IN OTHER NEWS…
A new first aid station and defibrillator has been mounted on the back wall and some of our members will be getting Red Cross Training.
We're replacing the old cash register and will begin using a Square register. Notify your watch captain or a board member for instructions.
| | |
| --- | --- |
| SECRETARY | Karlyn Good |
| TREASURER, INTERIM | David Sullivan PC |
| ACTIVITIES | Rear Commodore, Mia Bernt PC |
| AUXILIARY | Ernie Bergman |
| BAR | Vice Commodore, Greg Yu |
| BUILDING | Jim Meenaghan & Paul Kerrigan |
| CHIT COLLECTOR | Emily Boyles |
| CLOTHING SALES | Kathy Collins |
| DECK REPAIR | Jerry McNulty PC |
| DREDGING | Dave Sullivan PC |
| GALLEY | Mia Bernt PC & Dave Pedroli PC |
| GROUNDS & LANDSCAPING | Jimmy O'Hagen |
| MEMBERSHIP | Sheryl Lunsford |
| OFFICE MANAGER/ASST TREASURER | Doug Taylor |
| PICYA | Mia Bernt PC & David Sullivan PC |
| PORT CAPTAIN | Jimmy O'Hagen & Jerry McNulty PC |
| SEA BREEZE | Sheryl Lunsford |
| SUNSHINE | Stephanie Thomson |
| WEBSITE | Sheryl Lunsford |
| YRA - YACHT RACING ASSO SF BAY | JEB Pickett PC |
NOVEMBER'S CAPTAIN: BILL WALSH
Events at SRYC are always FUN and it's a great way to get to know fellow members. Any help with set-up, bartending, cooking, cleanup or schmoozing is VERY much appreciated by your Watch Captain! Members are expected to be available during their assigned month to help with the following duties:

Monthly Membership Meeting Dinners
Friday Night Happy Hour Food & Bartending
Club Events & Clubhouse Rentals
Check the Calendar and Contact Your Watch Captain to Offer Your Help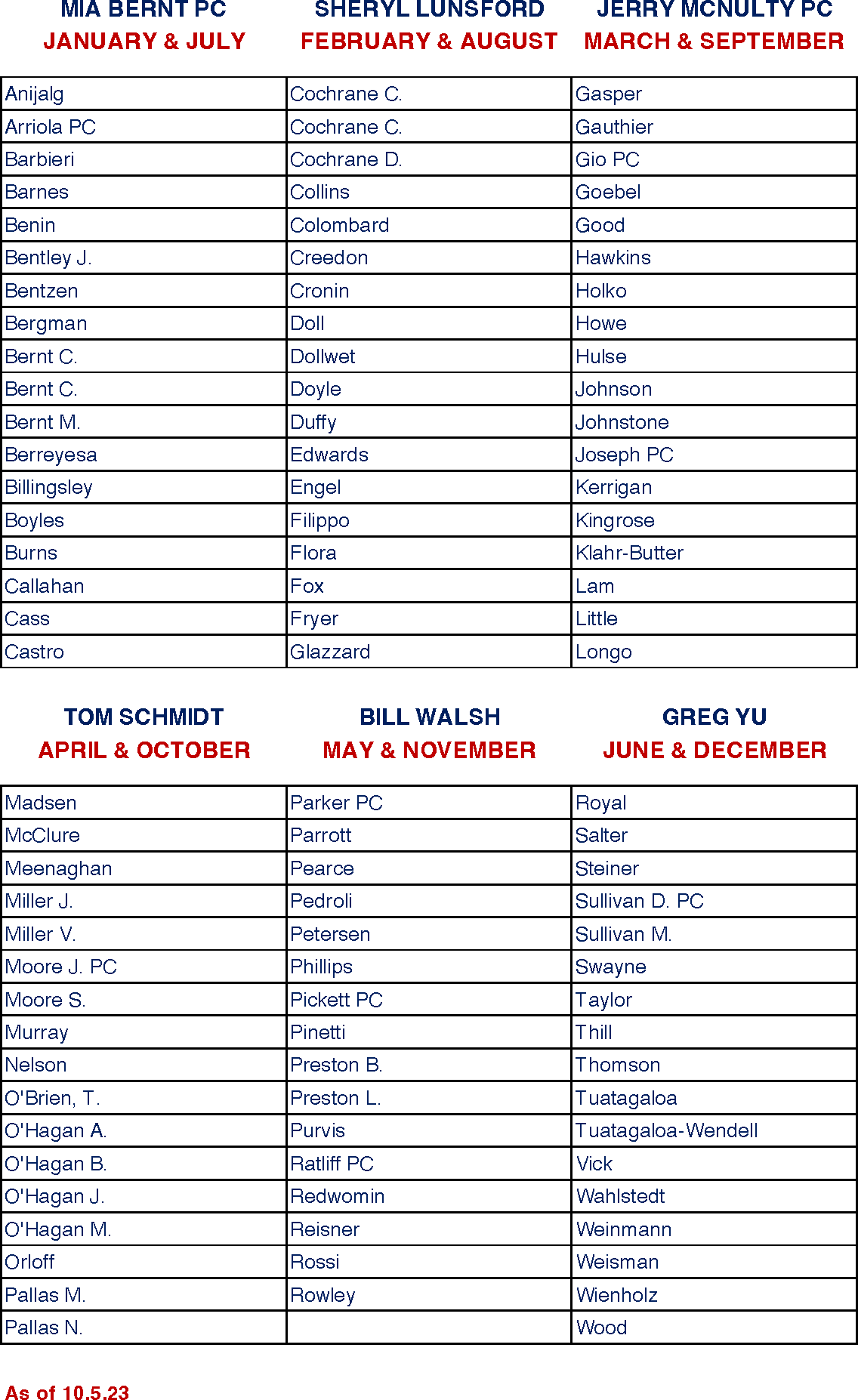 GENERAL MEETING

[First Thursdays of the Month]
NOVEMBER 2ND
6:00 PM
Cari Gerlach, 16' 63' Kayak
Chris Carrier
Alan O'Brien
Reynold Martinez
DINNER $15
Meeting ID: 878 0744 1307
HAPPY HOUR 6:00 – 9:00 PM
PICYA Report

On October 21st I went to the PICYA leadership/management conference at the Coyote Point Yacht Club in San Mateo. Lots of current topics and old ones were covered and various issues were brought up by different yacht clubs. One of the most important issues that came up was bartending. Anyone who is behind the bar needs to take the ABC-RBS course. This is required by law and ABC can fine us if anyone behind the bar is not certified. Some Delta yacht clubs have been checked and given notice. Anyone who is interested in getting certified to bartend, please register to take the exam and notify the board when you receive your certificate. It is a very easy process. Instructions are also available by PDF or Video.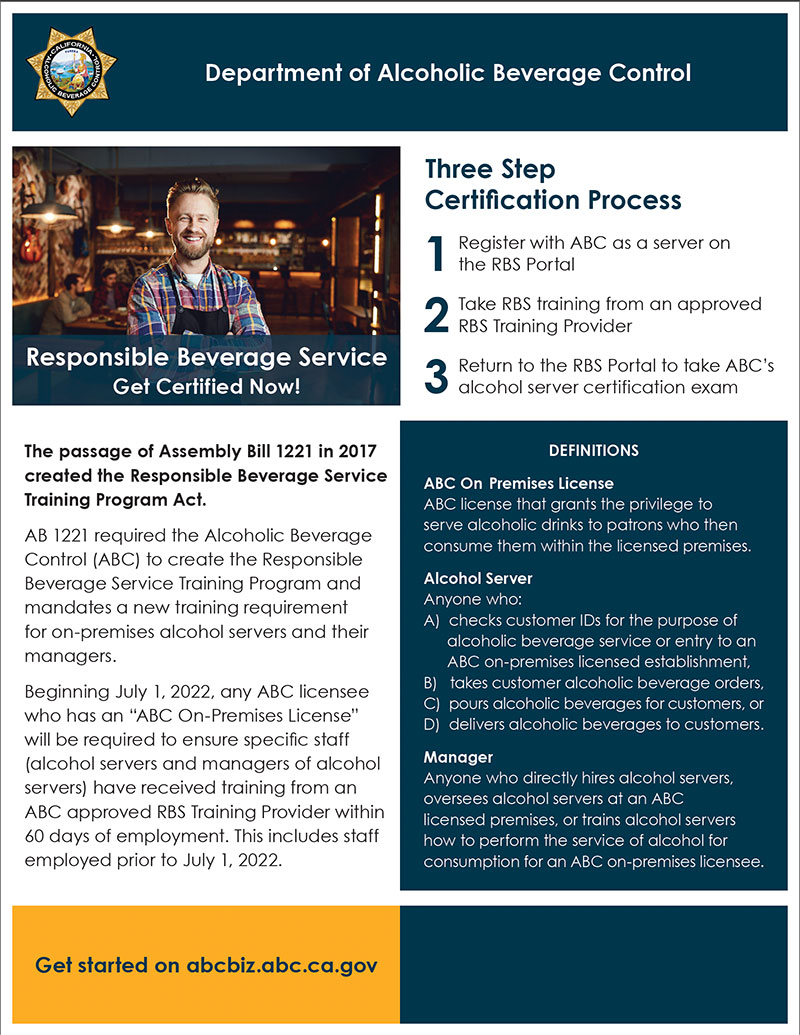 Ask me if you have any questions about this or any other PICYA topics.

Thank you, Paul
"for the good of the club"
As 2023 is drawing to a close, we can look back, even with all the challenges we faced, that this has been a pretty good year . . . some great events, some great dinners, some new members, some great weather, some great cruise-ins, and a LOT of repairs and improvements to our building.

Your SRYC auxiliary is looking forward to a wonderful "Italian Night" dinner to be held on Saturday, November 11th. Our Master chef is long time member Stephanie Garaventa Thomson doing her magic in the galley. My mouth is watering just thinking about it !!! It also happens to be Veteran's Day and all SRYC members who are also veterans eat for free.

Our annual Auxiliary Christmas Party and Gift Exchange is approaching, too (details TBA). What a GREAT WAY to end the year !!! Happy Thanksgiving!


The Auxiliary is open to all members and their significant others. Traditionally the Auxiliary leans towards family related activities. We organize Christmas parties, theme dinners i.e. Italian nights, Cook Your Own Steak nights, Karaoke evenings and many other fun-filled events. The goal is always to provide enjoyment and opportunities for fund raising.
Dues are only $20/year and are payable to SRYCA.
Just place your application and dues in the office mail slot.
All photos are located in the clubs Google Photos album for now. They will be added to the website over the next few days or weeks as I start to recover from this forever cold. -Sheryl
The online Ship's Store offers more selections, including full product descriptions, colors and sizes.


Several items are available for purchase in the club's display case that you can pay for at the bar.


WEBMASTER
Do you have a suggestion for the Sea Breeze and/or website you'd like to see? If so, please pass them onto me!
My wishlist of online content:
Member's Orientation Manual
My wishlist of new club gadgets:
Dust Buster
MEMBERS ONLY - REGISTER & LOGIN
Create Your Members Only Profile*
Confirm receipt of your registration by email.

*

Registrations must be activated by the Webmaster before proceeding

.

Another email will confirm your registration is activated.

Login with the auto-generated password or click change your password here.
To create a new password, use Forgot password? Click here to reset.

The Members Only menu will magically appear. Click on it to enter.

Club documents accessible by Members Only:

Roster

Bylaws

Club Rules

Watch Teams

Blank Meeting Agendas