Cruise-Out: Petaluma Yacht Club – Contact Jerry or Mia if Going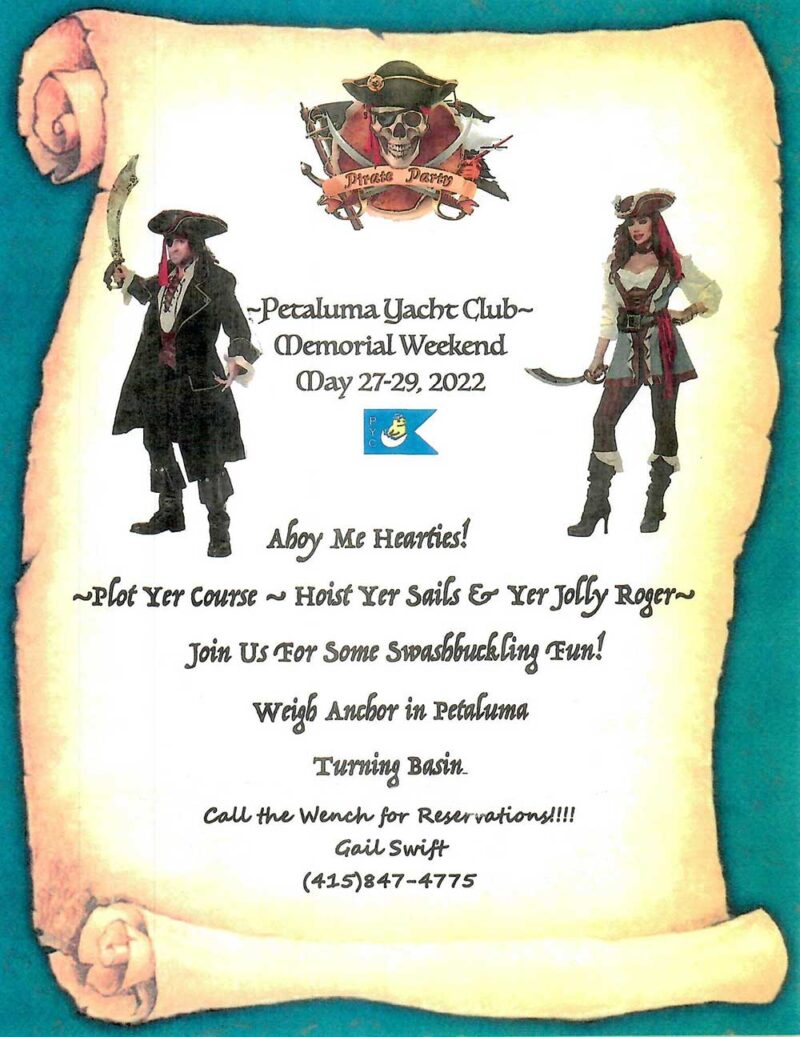 It's Time for Another FUN Memorial Day Weekend
If you are planning to go either by land or by sea, contact:

Here's How It Works:
Book Your "PIRATE" pass by Advance Reservations and Pre-Payment Only!
Event is limited to 150 pre-paid reservations with PROOF of Vaccination….so, RSVP early!
Cruise Chairs: send one check for your entire group. Deadline to receive check is Friday, May 20th!
$85 Adventure Pass – includes everything on the Event Schedule
$65 ONLY for those driving up (HAVE NO BOAT) for Saturday dinner
$25 for kids under 13 yrs old
Name Tags Must Be Worn to be Served at the Bar
Free Parking (even overnight) in Garage Across from Yacht Club
Check in Desk:
Friday: 3:00-8:00 pm 
Saturday: 8:00 am-5:00 pm
Pick up Wrist Bands/Stamps – Located Just Inside the Club
Sign Up Fri or Sat for Poker Walk, Color Guard & Sunday Games
Here's What You Get:
Friday – 5/27
5:00 pm: Cocktail Contest on the dock (flyer)
6:00 pm: Potluck Appetizers!! Each YC please bring one appetizer to share
8:00 pm: Commodore: Prize given for Best Cocktail Entry!! (inside Club)
8:30 pm: Music & Dancing!!
Saturday – 5/28
9:00-11:00 am: Buckets O'___ … aka Bilges will aka Continental Breakfast
10:00-4:00 pm: Walk the Plank Poker Walk (flyer)
5:00-6:30 pm: Pirate Grub (Dinner)
7:30 pm: Commodore Presentation for Petaluma Navy ~ Walk the Plank Poker Walk Winner & Prizes ~ Costume Contest Winners (best gal, guy and group) ~ Raffle winners will be chosen
9:00 pm: Music & Dancing!!
Sunday – 5/29
9:00-11:00 am: Shiver Me Timbers!! Bring on the Swabslop..aka Breakfast!!
12:15-1:15 pm: **Attending Veterans Present the Colors
2:00-5:00 pm: Games Team Event, teams of 4 (See sign up sheet at front desk)
5:00 pm: Winning Team's "Beer Weigh In" one team member wins their weight in beer
Monday –  5/30
8:00 am: Club opens
9:00-12:00 pm: Bar opens